The Spirit House is my interpretation of the spirit tablet on a Chinese family altar. These consecrated tablets contain part of the soul of the departed.
In this form, a loved one is asked for blessings or advice, thus remaining an active part of family life.
On Sunday November 1, 2015, which is All Saints' Day and the Day of the Dead, I will fire clay Spirit Houses using the Japanese raku technique.
The shreddings and cast paper from the letters burnt in the firing will infuse the clay with the spirit of the written words .
The raku houses will be displayed in March 2016 at the Nyack Library.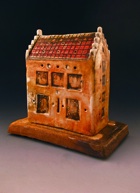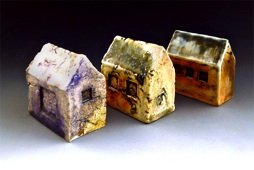 Cast Paper
and Woodfired
Spirit Houses